GPON (Gigabit Passive Optical Network) is used to reduce the number of active switching nodes in the network design. Network Design Best practice in Campus networks and many Datacenter networks (Not Massively Scale Datacenters), is to use Three-Tier; Access, Distribution and Core network design. Although the design decision depends on the scalability requirements in the Campus and DC, two layer; Access and Collapsed Distribution/Core design can be used. Below figure depicts common three tier Access, Distribution and Core design.
This post was first published on Service Provider Networks Design and Architecture by Orhan Ergun book.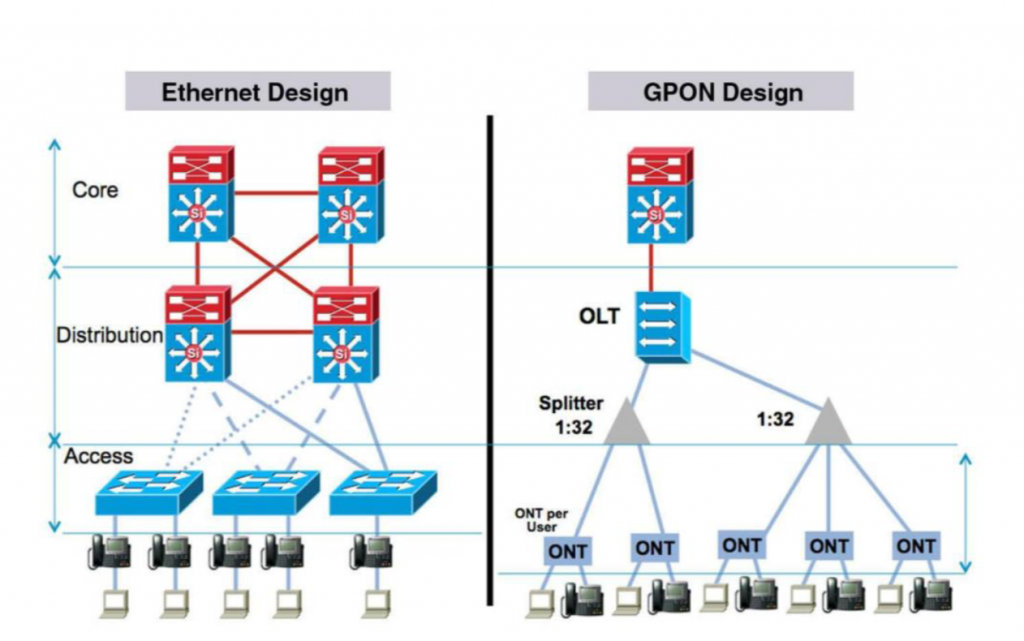 Figure - GPON vs. Traditional Ethernet Architecture
In Three-tier Traditional campus networks, there are active Ethernet devices used in each tier. Active means, nodes require electricity. Active Ethernet switches forward traffic based on forwarding rules. If it's a Layer 2 network, traffic is forwarded based on Layer 2 information, if it is a Layer 3 design, traffic is forwarded based on routing protocol information.
GPON in the campus network replaces traditional three-tier design with two-tier optical network, by removing the Active access and distribution layer Ethernet switches with the ONT, Splitter and OLT devices. Although ONT requires power, the power requirement of ONT, compared to ActiveEthernet switch is much less and the Splitter doesn't require power at all. Splitter is purely a non- Active device.
Analysis show that using GPON in the Campus network, instead of Active devices, reduces power requirement significantly.
Many capabilities which are provided by Active Ethernet switches, such as Vlan awareness, Security features, Quality of service, Multicast, Redundancy, loop prevention etc. are provided with GPON design as well.
In design, there is no best solution. Every solution has its advantages and the disadvantages. This is also true for the comparison between GPON vs. Active Ethernet.
So far, it has been given that GPON has many advantages. On the other side, GPON has its bandwidth limitation as a technology. 2.5Gbps Download, 1.25Gbps Upload limitation. Although with the newer generation of PON solution, it can provide more Download and Upload bandwidth.
When we compare GPON with Traditional Active Ethernet, it is true that the Download bandwidth is 2.5Gbps and Upload bandwidth is 1.25Gbps, which is less than what traditional Ethernet can provide.
Depending on the Split ratio on the Splitter, 2.5Gbps bandwidth might be shared with 32, 64 or even with 128 different end points. Thus, it is true to say that when there is more bandwidth requirement per end point, Active Ethernet architecture can provide more bandwidth, probably with a better cost.
Cost analysis should be made carefully, as there might be different Fiber optic cable and transceiver requirements for each solution.