HSRP, VRRP and GLBP are the three commonly used first hop redundancy protocols in local area networks and the data center. In this post, I will briefly describe them and highlight the major differences. I will ask you a design question so we will discuss in the comment section below.
I am explaining this topic in deep detail in my Instructor Led CCDE and CCIE Enterprise Course. HSRP and GLBP are the Cisco specific protocols but VRRP is an IETF standard. So if the business requirement states that more than one vendor will be used , then VRRP is the best choice to avoid any vendor interoperability issue.
For the default gateway functionality HSRP and VRRP uses one virtual IP corresponds one Virtual Mac address. GLBP operates in a different way. Clients still use one virtual IP address but more than one virtual mac address is used. So each default gateway switch has its own virtual Mac address but same virtual IP address. To illustrate this, let's look at the below picture.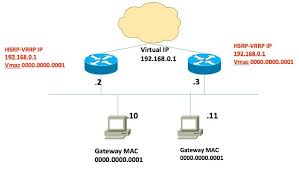 In the above picture, clients use same gateway mac address since the first hop redundancy protocol is HSRP. If GLBP was in used, on the PC we would see different gateway mac addresses. HSRP works as an active/standby , GLBP works as an active/active fashion. Both nodes/gateways in any vlan can pass the traffic if GLBP is used.
Bonus : This is called flow based load balancing. Flow based load balancing is not possible in HSRP or VRRP. Maximum you can have with HSRP and VRRP is vlan based load balancing. For some set of vlans, one switch is used as active node , for the different set of vlans, standby node is used as an active node for those vlans. For example, all the clients in Vlan 1 – 100 can use left switch as a default gateway ,for the Vlan 101 – 200 right switch can be used as a default gateway.
If you do this still all the physical links can be utilized in the topology and any switch doesn't stay as an idle. If you lose an active node in HSRP/VRRP network, all the hosts in a given vlan is effected. But in GLBP, since both nodes are active and only half of the traffic passes through failed node, only half of the clients in any given vlan notices the failure. This is important network design criteria for the first hop redundancy protocols.  
Question :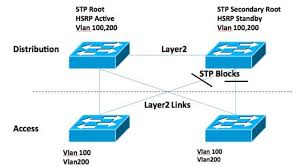 Question 1 : What is the name of this topology ?
Question 2 : Is HRRP or GLBP more suitable , Why ?
Share your answers with your name and email since the correct answers will receive a surprise prize. By the way please share this post on social media.