IGP vs BGP is one of the topics every Network Engineer want to learn in their career.
In this post, without going into each IGP protocol detail, where and why IGP or BGP is used and should be used will discuss.
As usual, we will look at it from a design aspect and understand the reasons for the protocol selection.
IGP vs BGP comparison from a design perspective using a comparison chart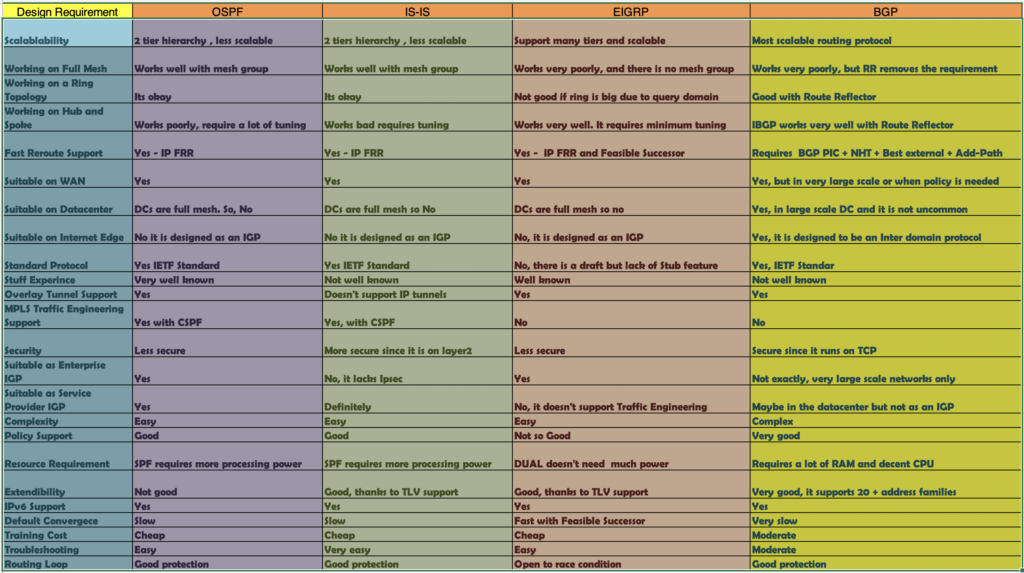 Although I will not explain the above chart in this blog post in detail, I would like to share it for completeness. Also, please note that we compared BGP with each IGP protocol from a design point of view on the website in different blog posts already.
IGP vs. BGP - BGP is the most scalable routing protocol!
When IGP vs BGP is compared, the first thing we should understand is that BGP is the most scalable routing protocol and it is used for the Global Internet.
Global Internet, as of 2022, carries almost a million IPv4 Unicast prefixes. When we talk about IGP scaling, OSPF, IS-IS, or EIGRP, can carry couple of tens of thousand prefixes, and after that, we may start seeing meltdowns, even in well-designed IGP networks.
BGP vs IGP - BGP Policy is more powerful!
Another main reason BGP is preferred where it is preferred, such as Global Internet or MPLS VPNs, it is much more flexible when it comes to path manipulation. By using many different attributes, such as BGP Local Preference, BGP Communities, BGP Prepending, and many techniques, network traffic can be engineered in both Outbound and Inbound directions.
With IGP protocols, usually, bandwidth is used to calculate the bandwidth, not many tools influence the path selection, and only the outbound direction traffic can be manipulated. BGP is used to carry customer prefixes in the Service Provider networks, and IGP protocols are used for the infrastructure device reachability. So, IGP is used for Transport, Underlay purposes but BGP is used for Service Layer, which means the Overlay mechanism.
IGP vs BGP - BGP is Multiprotocol technology!
Another big difference, between BGP vs. igp, BGP is multi-protocol technology. With MP-BGP support, BGP can carry 20 different Address families. 20 different purposes, IPv4 unicast, IPv4 multicast, IPv4 unicast, IPv6 multicast, EVPN, L2VPN, Security, Quality of Service, Multicast, and many other purposes, BGP can be used. IGP protocols are used usually just for IPv4 and IPv6 Unicast purposes, even for Multicast, a separate protocol, PIM is used with IGPs.
Although many other things can be explained when we compare IGP vs BGP, my intent is to keep this post as short as possible, as I explained each of these comparisons, such as OSPF vs BGP, OSPF vs EIGRP, and different comparison variations in a different post on the website in detail.