Internet is slow due to Coronavirus! and this will be the case for entire world soon!.In this post, I will mention some of my concerns for the computer network infrastructure due to Coronavirus, Covid19. First condolences for all who lost their life due to this virus. Entire world, including my country, Turkey, passing through very hard time.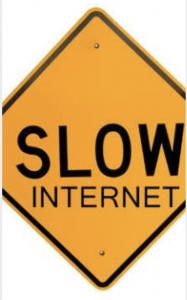 In fact, I am writing this pst while I am sitting at home, and today it has been 5 days that I have been working from home. This will be relevant throughout the post. Many people share the VPN stories and how much extra load on VPN termination devices they have, probably seen on social media.
By the way, thanks to the network engineers who put a lot of effort to setup very good VPN infrastructure that every businesses utilize at the moment. Many people are discussing the VPN but my actual concern for the networking infrastructure is Access ISPs.
You maybe started to realize Internet slowness already. This is due to statistical multiplexing of packet networks. So technical right? Okay let me explain in simple terms. Service Providers sell much more capacity than what actually they have. This is called oversubscription and revenue can be generated in this way.
Because, idea is not every user at the same time will be Online and even if they are online they don't use the entire bandwidth which they pay for. If you pay for 10Mbps let's say, average you might be using 2Mbps. But, these days, due to Coronavirus, schools are closed, children at home, many people started to work from home, so, entire family stay at home, children play games (consumes a lot of bandwidth), adults use Internet for their work purpose or streaming some videos etc. So, assumption of not everyone will be Online will not be true these days.
Most users of the ISPs will be Online on the network at the same time, especially for the residential Internet service I am talking about and you will see more and more bandwidth botleneck and you will call it Internet slowness. We see these days almost all video conferencing vendors (Webex, Zoom etc.) are providing free service during the coronavirus problem, and I expect from Service Providers to take some action, it may not be free service maybe but at least Service Providers should upgrade their network and provide adequate bandwidth for their users.
Otherwise remote , working from home idea will be useless. I don't mention from Transit ISPs because most of the content on CDN and large Over the Top Providers they have their own cache engines deploy in Access ISPs or IXP, thus, problem mainly last mile, Access ISP networks. This last sentence is a little bit technical and if you want to understand these concepts (Transit ISP, IXP, OTT etc.), please refer the other posts on the website.
I wish you all health and safe days, hope we will leave this issue behind in couple months. Thanks for all who support us (Doctors, Companies, Employers, Families and so on.) during this critical time.