If you want to start your NSE 4 studies, you're in the right place. In this blog post, we will provide you with a quick NSE 4 study plan that is designed for beginners.
We highly recommend that you follow this plan to get the most out of your studies.
Remember that this plan is just a starting point – feel free to adapt it based on your needs and preferences.
Let's get started!
Before we begin: What is NSE 4?
NSE 4 is a certification exam administered by Fortinet, a provider of network security solutions. It focuses on advanced network security management and implementation skills. This certification demonstrates an individual's ability to configure and maintain a secure FortiGate network environment.
The NSE 4 exam is one of eight levels in the overall NSE program, with each level covering increasingly specialized and in-depth knowledge. Passing the NSE 4 exam indicates a strong understanding of networking principles and Fortinet products, as well as practical experience with these technologies.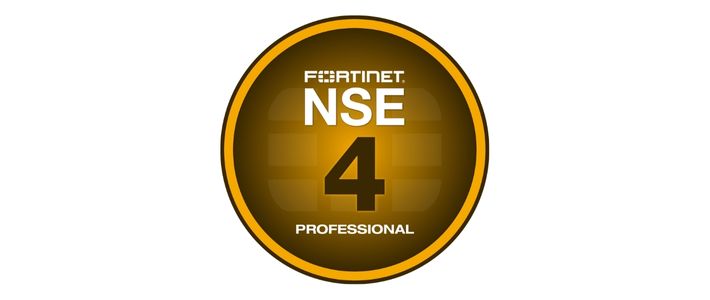 Earning the NSE 4 certification can open up career opportunities in network security management and consultation. To prepare for the exam, candidates should have hands-on experience with Fortinet products and resources such as official training courses or study guides.
Here's our NSE 4 Study Plan for you
Are you preparing for the exam?
Our NSE 4 study plan can help you prepare for the big test.
1. Review Networking Fundamentals and Firewalls
The first step of our NSE 4 study plan is to update your knowledge about the fundamentals. Knowing the basics of networking can aid in understanding more advanced concepts, such as securing a network and setting up firewalls.
In addition, being familiar with different types of firewalls and their functions can assist with answering questions on the exam that deals with network security measures.
2. Spend Some Time Studying Virtual Private Networks, Layer 2 Switching, and Network Security
The second step of our NSE 4 study plan is studying relatively more advanced topics after you learn the fundamentals.
As an NSE 4 candidate, obtaining a comprehensive understanding of virtual private networks, layer 2 switching, and network security is crucial for success on the exam. These topics are heavily emphasized in the NSE 4 objectives, and having a solid grasp of them will benefit you during the exam and your day-to-day role as a network engineer.
By studying these concepts, you will understand how to securely establish and maintain communication within a network.
3. Learn More About Remote Access, Intrusion Prevention Systems, Endpoint Protection, and Secure Email/Web Protocols
When preparing an NSE 4 study plan for you, we know the importance of having a thorough understanding of remote access, intrusion prevention systems, endpoint protection, and secure email/web protocols. These are key components of network security and can play a pivotal role in protecting an organization's system from cyber attacks.
A thorough understanding of these topics can also help individuals identify potential weaknesses in their own personal networks and implement appropriate measures to protect themselves and their data.
4. Spend Some Time with Practice Questions
As any experienced test-taker knows, studying the material is essential, but it's just as crucial to practice applying that knowledge. This is particularly true for the NSE 4 exam, as it covers a broad range of information and skills.
Spending time with practice questions not only helps to familiarize yourself with the format and structure of the exam but also highlights areas where you may need to spend additional time studying. It also gives you an opportunity to fine-tune your test-taking strategies, such as time management and identifying key information in a question.
Summary
If you are looking for a crash course to help you pass the NSE 4, we have just what you need. Our online NSE 4 course is designed specifically for beginners and will give you all the tools you need to succeed.
Our team of experts is also available to help guide and support you as you study.
Don't let the exam intimidate you – sign up today and get started on your road to success with our Fortinet courses.