What is ASBR? Autonomous System Boundary Router. This seems easy, it is just used in OSPF, isn't it?. In fact, that is wrong. You will learn in this post something, that is hopefully you will learn the first time. Let's have a look at it. ASBR is a node, that is connecting two or more networks. It can be a router or switch and it can be positioned at the Internet Edge. The router at the Internet Edge is referred to as IGW (Internet Gateway) Router and it can be an IGW Router.
It can be located between two different networks to provide MPLS service for example. Between two networks, service is referred to as Inter-AS MPLS VPNs and in RFC 2547, Section 10, 3 different Inter-AS MPLS VPN Options are explained. In all of them, the routers that are connecting two different Autonomous System is referred to as ASBR as well.
On those routers, usually, BGP runs in Inter-AS MPLS VPN service. OSPF is not mandatory. Thus, saying it is used in OSPF would be a false claim. It can be used for many different services in the networks and ASBR can run any routing protocol, not just OSPF.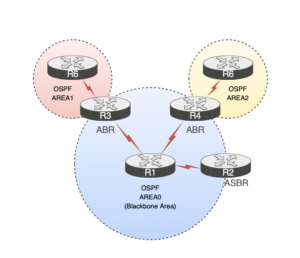 Figure - ASBR in OSPF 

  In the above figure, ASBR in the OSPF network is positioned. That router can inject external prefixes to the OSPF network. We call the prefixes external because those prefixes don't belong to this company network. Even if the prefixes come from different OSPF Process IDs, it is considered external prefixes. Sending prefixes into the network using the ASBR router is done via a process called Redistribution.

We explained Redistribution Best Practices earlier on the website.You may want to check ASBR vs. ABR differences, similarities, and the use cases in OSPF networks.