OSPF Design Challenge - OSPF and MPLS is most commonly used two technologies in an MPLS VPN environment. In this post I will share a mini design scenario with you and ask couple questions about the fictitious company architecture. When you attend to my CCDE class ,we will work on tens of scenarios similar to this. I published last week my first mini design scenario about MPLS VPN and DMVPN, and I am thinking to publish every Thursday a new one.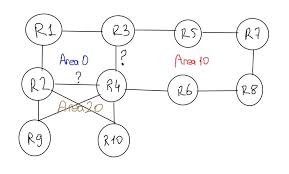 In the topology above Company A has a core ring topology between R1 through R8.   There is a huge direct traffic between R3 and R4 core routers thus network engineers decide to connect them directly and turn the topology to partial mesh.   There is no east-west traffic between R9 – R10 edge routers and almost all traffic is north-south.  
Company A sends only default route from the core to the edge routers. They know that this might cause suboptimal traffic pattern but it is not an issue for the applications of Company A.   Company wanted to create a Multiple Area since the edge routes such as R9 and R10 and the other routers which are not included in the topology has a resource (CPU/Memory) concern.  
Company A network engineers knows that flapping links , even adding a loopback interface on any router would trigger a full SPF run on the poor edge routers.   For the simplicity other routers which are connected to the ring is not shown.   CompanyA network engineer has some question to orhanergun.net readers.    
Question 1 : Is it good idea to separate Core routers in two Areas (Area 0 and Area 10)
Update: No. Company already has small amount of core routers, and even if the company had thousand of core routers, you can have them all in one area. Using prefix suppression feature, infrastructure links can be removed from Router LSA, so they only have loopback addresses of each other.
Question 2 : Which area should R2-R4 and R3-R4 links should be placed in, Why ?
Update : In order to prevent sub optimal routing, enabling OSPF Multi Area Adjaceny is better. Also if you would put both links in non-backbone area, R4 no longer wouldn't be an ABR.
Question 3 : Should I have a direct link between R9 and R10 ?
Update: No. In the background information section, we are told that between those routers, there is no traffic,so the traffic pattern is north-south. Although in the topology is not shown,company has many edge routers as it is stated in the background informations, having a direct link would just increase the LSA database of poor routers,it would make troubleshooting harder as well.
Network Manager of Company A thanks to you and send an email to you, here it is: Hi, We want to have a BGP free core design. On all our core routers we have BGP running. In this stage, We don't want to have BGP Route Reflector since we want to have path visibility.
Question 4 : What would you suggest for Company A's BGP solution? I would suggest them to enable MPLS. In this stage in real exam you might be asked whether you need additional information. If company wants to have scalable VPN solution, then having an MPLS provides them to have mpls vpn. If they enable MPLS on the network, Core devices don't have to run BGP.
You can't use single area/Flat IGP in this network since in the requirements, you are told that edge devices have resource problem,so you need to create boundary and put the edges in different areas to protect them.
Question 5 : Would your solution work with the all above requirements ?
Update : No. In the background information sections, you are told that Company A sends only default route towards an Edge routers. If you run MPLS, unless you enable RFC 5283 or have Seamless MPLS design, you need to have /32 addresses of loopback interfaces of edge devices in non-backbone area.
If you receive only default route, you need to leak loopback addresses from Core to Edge in IGP. To have a great understanding of SP Networks, you can check my new published "Service Provider Networks Design and Perspective" Book. It covers the SP network Technologies with also explaining in detail a factious SP network. Click here